a.sign premium (Bürgerkarte)
Efficient and secure e-business
The web has become a permanent fixture of our private and business world. The possibilities for working with it rapidly, efficiently and at a favourable cost are practically endless. But what about the required security? Defences against phishing attacks, trojans and viruses play a growing role in most companies.
In shape for digital change
If you want your ordering system, your contract processing or notarization or also your requests to public authorities to be practically forgery-proof, then you need digital signatures. Wherever handwritten signatures are usually required, this electronic legitimation allows the efficient and forgery-proof transfer of important documents.
The signature card a.sign premium makes precisely this possible. Various chip cards, such as the a.sign premium card or the e-card, can be used as carrier medium. Optionally, a.sign premium can also be extended to include an identity link, thus becoming a full-fledged citizen card.
Add-ons:
Installation of the free a.sign Client and the A-Trust citizen card software is recommended for use of the a.sign premium card.
The a.sign full installer supplies you with the basics in terms of signature software and instructions e.g. for signing Word and PDF files.
Download citizen card software

Notice: With the introduction of ID Austria, the citizen card identy of your a.sign premium signature card is automatically transferred to an ID Austria with basic function. You are able to continue to use your card as usual up to the expiration of the certificate, however, you are not able to order new signature cards (e.g. replacement cards) after the introduction of ID Austria.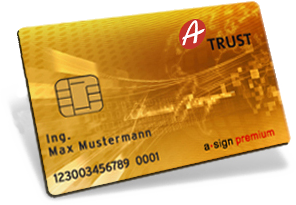 Benefits
Sign documents
Use e-government applications (extension identity link)
Use a chip card as an employee ID
Use e-banking
Use Windows PC login
Advantages
Card and PIN instead of password, user name and TAN lists
No media discontinuities
Most effective protection against access data theft (phishing)
Requirements
Web browser
E-mail account
More information
---
Gemeindeausweis a.sign premium (municipal ID)
A secure company ID with confidentiality certificate
No matter whether in a small rural municipality or in a city of millions: interactions on the web require special protection. Internal documents are often subject to secrecy and must not fall into the wrong hands under any circumstances.